If you want to ensure that Retail Prices on your Website or in CORE are round numbers, you can set a Rounding Rule.
Step 1) Click the Rounding Rules tab under the Manage Inventory Menu Category.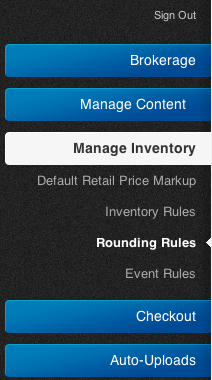 Step 2) Select which API Credential (Website) or Office you would like to adjust.

Step 3) Check the box to Enable the Rounding Rule and indicate whether you would like to round retail ticket prices Up or Down to the nearest $1 or $5. Click Save.